What We Do
---
Line Voltage
Main service and circuit breaker panel upgrade
Modern appliances and equipment require adequate, reliable power. A new main service is frequently the first step in modernizing an electrical system. I install GFCI and AFCI circuit breakers for circuit protection. In addition I offer building wide surge protection using Eaton devices.
Does your panel
look like this?
Pulling in a new feeder on
the roof of the Exploratorium
---
Remodel
For over 40 years I've been upgrading electrical systems in existing buildings, including many of the most challenging types from historic Victorians through vintage Eichler homes. I've developed many specialized techniques to add wiring with minimal disruption.
I've worked closely with inspectors, insurers, lenders and owners to eliminate safety hazards, add convenience and increase the power available. In many cases I am able to inspect and re-use existing wiring, saving the expense of re-wiring.
| Bad, old wiring | Pretty, new wiring |
| --- | --- |
| | |
Lighting Design
Years spent doing film, stage and video lighting mean innovative, dramatic lighting designs to enhance your spaces, indoor or out.
---
Energy Efficiency
Because part of my mission to safeguard our planet, I advise customers about energy efficiency and suggest implementation strategies. These include the mandated California Title 24 guidelines as well as whole house energy management and lighting choices. I recommend LED lighting exclusively and can suggest beautiful fixtures or invisible strip lighting to add illumination without glare.
An efficient system is easy to control. I install energy-saving dimmers, timers and whole house controls. I am a factory trained installer of Insteon mesh networks. I install and service Lutron, Leviton and Lightolier lighting control systems. I integrate these systems with motorized draperies, remote door openers, security systems and audio/visual systems including premises surveillance.
Low Voltage
I began installing low-voltage systems twenty five years ago with telephones and hybrid PBXs. Now, if it runs over wires, I install it. I install hard wired data networks for traffic too sensitive to broadcast to the neighbors. I keep up with the changing face of technology by offering home theater, whole house audio/video and integrated home control.
Home theater designed and installed in Sausalito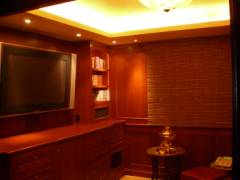 ---
Electric Vehicles
The number one reason that customers are upgrading the power into their home is to provide for electric vehicle charging. I have done many EV installations and know the most cost effective way to provide that power.
---
Safety Inspections
I perform a safety check during every visit. My most important service is the feeling of confidence I leave with my customers. If I should find an unsafe installation, I show it to the customer, explain why it is dangerous and recommend corrective action. I have over 40 year's experience with all manufacturer's products and pay special attention to the ones known to be troublesome.
Over the years, I have found two types of circuit breakers to cause problems. Refer to these pictures to identify them.
| If your house has FPE circuit breakers, click here | If your house has Zinsco or Sylvania circuit breakers, click here |
| --- | --- |
| | |